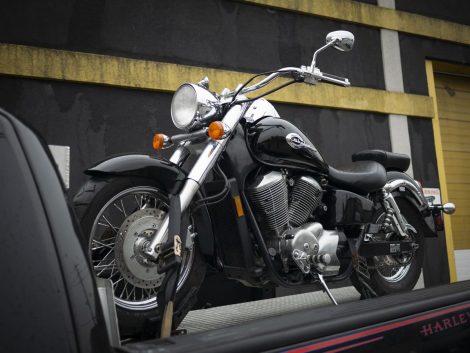 A working motorcycle is a beautiful thing but an old or neglected motorcycle can be a major headache.
Quite often, getting an old and neglected motorcycle roadworthy again means you'll either need a lot of space, tools, time, and know-how, or you might end up paying more than the motorcycle is worth to have a shop fix it for you.
What do we offer?
Sometimes scrapping a motorcycle, or simply getting a motorcycle removed, makes the most sense. That's something we can help with. It's pretty easy!
Motorcycle Towing Toronto can help you deal with a problematic motorcycle. Depending on your motorcycle's age and value, we may even pay you for it.
Who is this for?
Those wanting an easy motorcycle removal
Those wanting a motorcycle towed quickly
Those with keys and ownership on hand
What are the benefits?
Easy pain-free transaction
Security and confidence in your interaction
Opportunity to get some cash back
Should you fix your motorcycle yourself? If you have the time, space, tools, and know-how, yes, absolutely! Most of us will need a shop though!
On average motorcycle shops around Toronto are charging $120/hour, not including parts (assuming they're in stock, or even available for older motorcycles).
By the time you've got fresh fluid, new tires, a new battery, and fixed any problems, your bill can often cost more than the motorcycle is worth.
Get in touch with us. Worst case, we can help you gain some space and peace of mind back. Best case, we offer you some money and turn your motorcycle into one of our winter projects to try to get running in time for next spring!
Note: We may contact you to request pictures or to confirm any details with us. You're welcome to reach out via any of the methods on our Contact page. Whatever is most convenient for you!